*RELEASE DATE: 1/12
After the death of her father, Jill's mother decides to adopt a baby.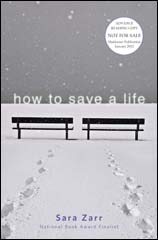 My thoughts:
1. The cover is not incredibly relevant to the book and looks kind of corny, in my opinion.
2. "How to Save a Life" is a cheesy title that many people will associate with the song by the Fray. To be honest, every time I looked at or picked up the book, all I could hear was that song.
3. The only book of Sara Zarr's that's really worth reading is Story of a Girl. I've read all of her other books in the hope that one might be as good as that one, but to no avail.
4. What kind of names are Jill and Mandy? Have you ever met a teenager in 2000s with the name Jill? I guess Mandy is appropriate because the character is kind of odd and ditzy, but really? Or maybe I have a subconscious personal vendetta against the name Mandy...
Also try:
Other books by Sara Zarr
Someone Like You by Sara Dessen (also a book about teenage pregnancy, but much better/more interesting.)
Soundtrack:
How to Save a Life - The Fray (haha)